Sezzle (ASX:SZL) is a recently listed buy now pay later (BNPL) business currently focussed on the North American market while also launching in Canada in April this year. Although there are some differences between the two, it's business model is very similar to Afterpay (ASX:APT).
Given the company is in its early stages of development it is loss making and will likely remain so over the medium term. However, this is to be expected given the US market is in its infancy and the company's strategy is to grow users to significant scale. Once at scale the free cash begins to flow.
We see the current environment in the US as being one where multiple players such as Sezzle, Afterpay, Affirm, Klarna and Quadpay initially invest heavily to educate the market while building their merchant and customer bases.
Following this we believe consolidation is inevitable given the substantial benefits of scale inherent in these business models and as larger financial payments groups such as Paypal (NASDAQ:PYPL) realise the threat these new players pose to their business models.
This is much the same as in Australia where Afterpay and to a lesser extent ZIP (ASX:Z1P) have significantly undermined the major banks such as Commonwealth Bank (ASX:CBA), Westpac Bank (ASX:WBC), National Australia Bank ASX:NAB and ANZ ASX:ANZ.
Sezzle Executive Chairman & CEO is Charlie Youakim who in 2010 founded the successful payments company Passport. He co-founded Sezzle in 2016 with a view to disrupting the traditional retail payments sector in the US. While it is early days, Charlie is proving his leadership capabilities, executing to plan while leading by example – unlike most CEOs Charlie flies economy wherever he goes setting a good example for staff and saving money for reinvestment into the business for shareholders! It's the small things that make the difference! Charlie is a 50% shareholder so is truly aligned with investors.
Sezzle is currently focussed on the smaller end of the retail market with its average client spend totalling ~$80. As it grows its user base and value proposition, we expect it to start chasing the larger retailers, further accelerating its already rapid growth. In terms of its active merchants and active customers these are both growing exponentially, highlighting the ease of use of the product and also the value-add to customers.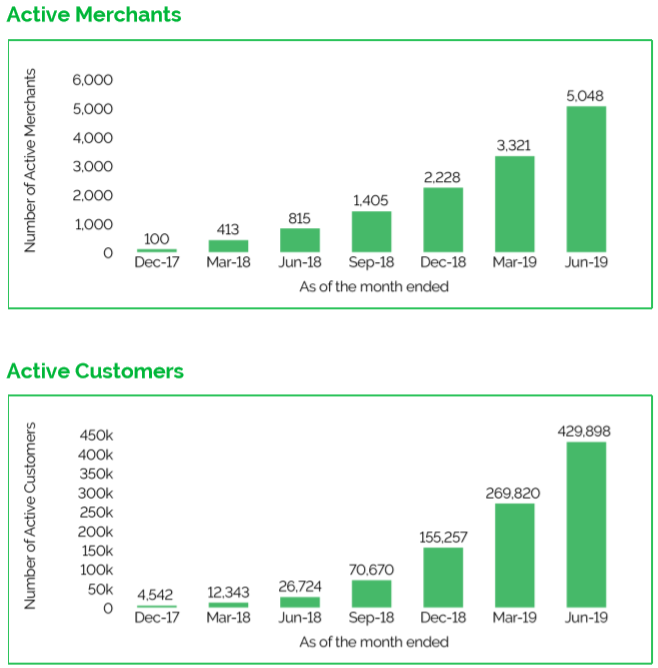 Source: Company information
Interestingly, Sezzle only accept ~50% of those retailers that apply to use its product as it focusses on keeping loss rates low (currently trending at 1.5% down from 2.1% at June 2018). This is a function of repeat usage and ongoing improvements in their credit analysis systems.
Source: Company information
The company has a healthy balance sheet albeit it is generating negative free cashflow as it focusses on building scale. Clearly there are risks such as execution and any potential negative regulation but we believe we have factored these into our valuation.
Could it be as successful as Afterpay? Time will tell, but with a strong management team, demonstration of its ability to grow exponentially, huge market opportunity and focussed strategy we believe Sezzle could be worth comfortably in excess of $3.50 per share over the next 12 months.
Disclaimer
Surrey Asset Management Pty Ltd ("Surrey AM"), [ABN 16 620 265 821 Corporate Authorised Representative No. 1263417 of Specialised Investment and Lending Corporation Pty Ltd (AFSL 407100)] believes the statements contained in this document, to the extent it is aware, to be reliable & accurate at the time of its production. However, the information in this document is general in nature and does not take into account your personal circumstances, financial needs or objectives. Statements contained in this document are not general or personal advice and should not be considered as a recommendation in relation to an investment in the Fund or that an investment in the Fund is a suitable investment for any specific person. You should seek independent financial/legal advice and read this presentation in conjunction with the relevant Information Memorandum available on our website prior to acquiring a financial product.
Surrey AM, its directors and employees do not accept any liability for the results of any actions taken or not taken on the basis of information contained in this document, or for any negligent misstatements, errors or omissions.